Happy New Year boys & girls! 2011 was an amazing year for the Nuts and we have YOU, our fans, to thank for that. Here's hoping 2012 will be full of even more madness! And since it's a NEW year, we think you deserve a NEW video. So sit back, relax, and have some laughs with our latest creation… "The Organic Medley."
Ladies and gentlemen, we proudly present to you the most glorious rendition of the 12 Days of Christmas EVER! You're welcome.
We've made thousands of you laugh throughout our live tour and online videos, and now the Nuts need YOUR HELP! Take a moment and vote for us for Campus Activities Magazine 2012 Reader's Choice Awards in the following 2 categories:
ENTERTAINER OF THE YEAR: http://tiny.cc/lxg47
BEST COMEDY PERFORMER: http://tiny.cc/clbeo
Help us spread the word! Thanks!
We are happy to announce the final show of our 2011 tour will be taking place in our hometown of Miami! Don't miss the madness on Friday, December 9th @ 8PM at the Just the Funny Theater! Featuring the debut of new sketches & videos! Will the Gayo guys bring us a new product? Only 1 way to find out! Click here and get your tickets NOW!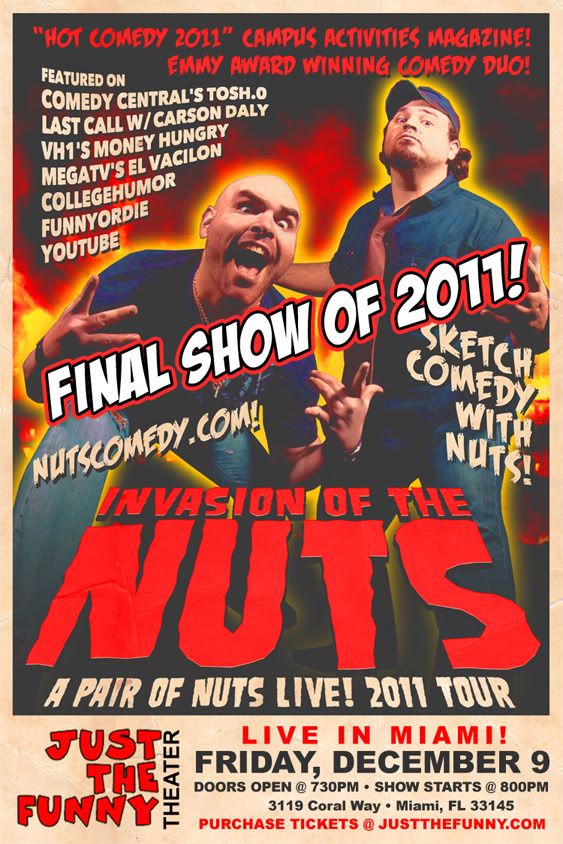 Get to know the Nuts in this interview w/ Remezcla.com! We talk Gayo, touring, SNL, and more. Thanks to Matt Barbot and Remezcla for the interview!
Check us out on page 28 of the September issue of Campus Activities Magazine! Thank you to Ian Kirby for the interview and featuring us in CAM! (Photo by Osiris Ramirez Photography)
New Tour Dates
Just added more dates to the "Invasion of the Nuts Tour" including 13 military bases! Check them out here!
Nuts on Disney Cruise Lines?!
You heard right boys and girls! We'll be performing on Disney Cruise Lines from July 5-8 aboard the Disney Wonder to Alaska. We're very excited about this opportunity and would like to thank Levity Entertainment and Disney for having us.
2011 Radio Lollipop Comedy Show
We'd like to give a very special thank you to David Berry and the entire Radio Lollipop crew for having us headline their annual comedy show fundraiser. It was a great event that raised $23,500 for an amazing cause. If you're not familiar with the organization check them out here and donate you cheap bastard.